Manuel Canovas new collection
Manuel Canovas have released their new collections to the world, and boy they've wow'd us all.
We took delivery of his new collections in the form of 6 brand new fabric books and 1 beautiful wallpaper book.  Suzanne has described the collection as "the best collection Manuel Canovas has produced". So what do they look like?
GASSIN
            The GASSIN range describes a very classic range of stripes with a fresh rework on colours and design.   Our first impressions are firstly taken by the fruitful range of colours and arrangement of stripes, but we're also markedly impressed with the softness and texture of the material. Honestly, it is so soft that you would gleefully snuggle up to this material, so well done Manuel Canovas.
GASSIN provides a nice selection of, shall we say, daring colour choices such as 'LUNEL ANIS 05', a bright lime green colour. However, there are some very smart, sophisticated designs, such as, 'LUNEL NUIT 01', a collection of navy blue, grey and ivory stripes arranged in clusters and wider widths to create a wonderful runner looking design.
EZE
Within the EZE pattern book range, one is greeted with the BORDEAUX collection of fabrics (as seen on the right). "Based on an antique document from the Indian bazaar of Jodhpur, states Manuel Canovas , this impactful and decorative tree of life design shows beautiful detailed embroidery stitches in gorgeous colours on a natural linen ground".       Other than 'CIEL', one also has the choice of 'TURQOISE' and 'PIVOINE' (pink).  What i love about these fabrics is the detail in the embroidery and the strength of the key elements. Take for example 'Turquoise' (see below), have a look at the strength of colour that shines out from the hearty petals central to that design, isn't that gorgeous.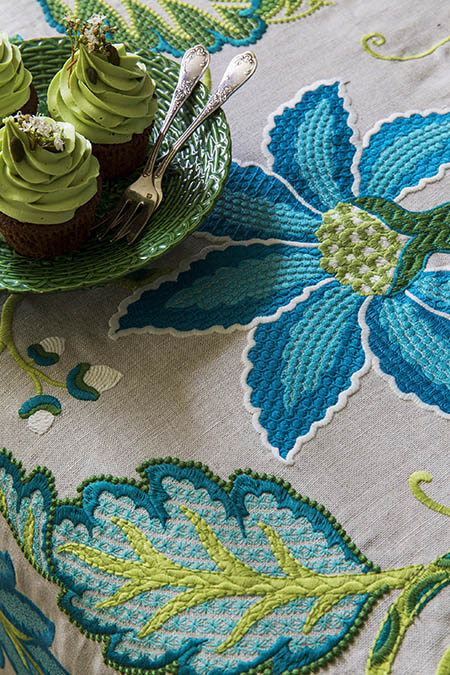 Further into the book, we arrive at another favourite; the MADIRAN fabrics (as seen below). The Rich Spanish Torro hue is intensely rich and intimidating at first, but against a cold backdrop it brings warmth and intensity. Thankfully, the embroidery is delicate in contrast which make it a perfect combination of strength and elegance of design.
PAULETTE
The final book from the collection that i feel is worth sharing is 'PAULETTE'.  The book begins with the 'L'ENVOL' collection of designs which comprise hot air balloons as its main decoration,and wow it's impressive. The refined, yet delicate print on a soft 100% cotton backdrop has a sophistication and fun style to it.
The main star of this book, in my opinion, has to be the feature design, 'PAULETTE'. It describes a scene of metallic, almost oriental, coffee pots all of varying colours of green, rose, orange, and white, purple and blue.  Manuel Canovas maintains it has a "vintage feel and would help create a warm and cosy atmosphere in any room." I would certainly agree with that, and would advise that this has its place only in the cliché settings of the Kitchen, Dining spaces, or maybe even as a blind in an office.  Be bold!
 Conclusion
It is very easy for us to say that this, latest collection, from Manuel Canovos has to be one of, if not the best, collection to have been produced by the French company. We love it, we know it will sell, and you too could enjoy it by seeing it for yourself at The Interior Studio, Devon. So do not hesitate to ask any questions, seek advice, or get in touch with us here at The Interior Studio. We'd love to hear from you.